When I arrived in Storrs from New York City in 1969 to teach physics at the University of Connecticut, one of the first colleagues I met was Dr. Cynthia Peterson. She had an infectious enthusiasm that appealed to me and my wife Anne. It turned out that Anne and Cynthia had both been students at Bryn Mawr College at the same time, another thing that bound us together. We remained colleagues and friends for decades until she finally retired in 2016, after nearly fifty years on the faculty. I felt she deserved a special retirement party on campus after all that time, and helped to facilitate it.
There are many memories: one is that she was the regular instructor in a large astronomy class year after year. This course continued from the time I came to Storrs into the present decade. Having an interest in astrophysics, I filled in for her to teach elementary astronomy for a year while she was on leave and I was mentored by her in preparation. This gave me an appreciation for the quality of her teaching and the effort she put into it.
Teaching for her was more than imparting facts: it included an introduction to research, how facts in science were discovered. An important part of the course was the hands-on observing sessions where students would use a telescope on the roof of the physics building to look at the moon, planets like Saturn, Mars and Jupiter, plus a number of distant galaxies. I had little experience in practical astronomy and Cynthia got me started on that. It is noteworthy that Cynthia and Jerry's two children are named Celeste and Tycho.
I found out that outreach to the public and community was an important part of the astronomy course because of local interest. Cynthia conducted an extensive outreach program to the community, appearing on radio shows and sometimes on television. Working with her gave me an opportunity to devise some undergraduate research projects using the UConn roof-top telescopes. One project involved a survey of sunspots and observing the sunspot pattern moving which indicated that the sun is rotating slowly on its axis like the earth. Over the years, Cynthia helped many students; particularly female students, with similar research experiences.
One year, when Cynthia was up for promotion, we served together as co-advisors for a graduate student on a spectroscopy project involving experiments using an ultraviolet spectrometer the she had in her lab and a small ion accelerator in my laboratory. This project combined our expertise to provide a richer experience for the student. When our daughter Sarah reached high school, she worked one or two summers as an assistant to Cynthia on some research on dating pre-Columbian pottery samples through a study of the light they emit when heated to high temperature (thermoluminescent dating). The emitted light was due to damage to the material from cosmic rays over the years since the pottery was first fired. This mentoring gave Sarah an appreciation for science as well as a role-model for how to do it, that a father could not replace. Sarah later followed her mother and Cynthia to Bryn Mawr, graduating with honors; though not in science.
Not all our interactions were work related: we shared memberships in the Mansfield Family Recreation Association, which provided an affordable cooperative winter lodge in Northfield, Vermont (once the governor's residence) in the heart of the ski country. Several families in Eastern Connecticut with teenage children were members that combined outdoor activity, winter and summer, with socializing in the evening. Cynthia and Jerry Peterson were particularly active in this: Cynthia served as Treasurer of the Association for many years.
The Physics Department at UConn had an annual hike up Mt. Monadnock (near Jaffrey, NH) during the height of the fall colors. We joined the Petersons for this event for several years, which featured a picnic on top and dinner on the way home.
In the last few years, with Cynthia and me both retired, UConn's Physics Department has moved into more advanced astronomy, starting a graduate research program in that field and hiring several new faculty, initially including two women. Women in physics and astronomy faculty are still underrepresented. The program seems very popular with students, both undergraduate and graduate; its success has led to new funding and substantial research. At Cynthia's retirement, I remarked in jest, but not entirely so, that it has taken three people to replace her.
She set the stage and provided a demonstration of student interest that helped justify the new program. She will be very much missed as a colleague and friend. She has left a strong legacy not only in the field of astronomy, but has been a particular inspiration for women in science more generally.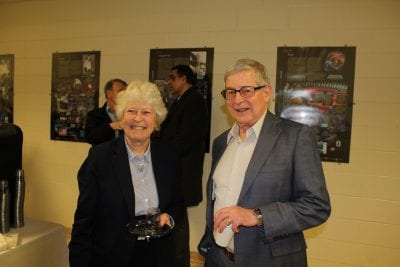 Winthrop Smith
Research Professor and Prof. Emeritus, Physics
University of Connecticut,
Storrs, CT. 06269-3046
Tel: (860)377-0941. Email: winthrop.smith@uconn.edu
---