The UConn Physics Department is delighted to announce that our 2019 Distinguished Katzenstein Lecturer will be
Professor Dame Jocelyn Bell Burnell
Friday, November 8th, 2019
04:00 PM – 05:00 PM
Storrs Campus, Student Union Theater
Professor Dame Jocelyn Bell Burnell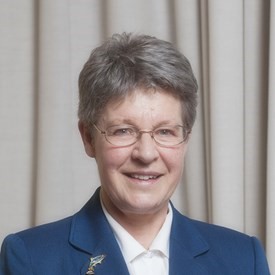 (pictured at left) is world-famous for her discovery of pulsars in 1967. Pulsars are a special type of neutron star, the rotating dense remnant of a massive star. Pulsars have highly magnetic surfaces and emit a beam of electromagnetic radiation along their poles. This beam of light moves into and out of our line-of-sight at quick, constant intervals, appearing as a regular "pulse" of light.
At the time of this discovery, Bell Burnell was a graduate student at the University of Cambridge and worked with her supervisor, Anthony Hewish, to construct the Interplanetary Scintillation Array to study another class of objects called quasars. In the course of her daily detailed analysis, she noticed a strange "pulsing" signal in her data. Jokingly dubbed "Little Green Man 1" (LGM-1), further data-taking and analysis revealed this signal to be rapidly spinning neutron star, eventually dubbed a "pulsar."
Bell Burnell's discovery is considered one of the most important achievements of the 20th century and was recognized by a Nobel Prize in Physics in 1974, awarded to her supervisor Anthony Hewish as well as to astronomer Martin Ryle. While many condemned the omission of Bell Burnell for the award, she rose above, graciously stating, "I believe it would demean Nobel Prizes if they were awarded to research students, except in very exceptional cases, and I do not believe this is one of them. Finally, I am not myself upset about it – after all, I am in good company, am I not!"
Professor Dame Jocelyn Bell Burnell has a highly distinguished career. Some notable highlights include serving as head of the Royal Astronomical Society and as the first female president of both the Institute of Physics and The Royal Society of Edinburgh. She was appointed Dame Commander of the Order of the British Empire for services to astronomy in 2007. Her story has been featured in a number of works, including the BBC Four's Beautiful Minds and BBC Two's Horizon. Bell Burnell is currently the chancellor of the University of Dundee in Scotland and a visiting professor of astrophysics at the University of Oxford.
In 2018 Bell Burnell was awarded a Special Breakthrough Prize in Fundamental Physics. Only four such prizes have been awarded, one to Stephen Hawking, one to the CERN scientists who discovered the Higgs Boson, and one to the LIGO team for their detection of gravitational waves. This award recognizes her discovery of pulsars and "a lifetime of inspiring scientific leadership." In addition to her research accolades, her teaching, leadership, and work to lift up women and minorities in science is without parallel.