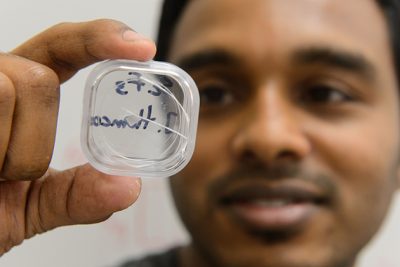 October 6, 2015 – Kim Krieger – UConn Communications
Jason Hancock, Assistant Professor in Physics, with graduate students, Erin Curry and Sahan Handunkanda, have been investigating a substance that shrinks when it warms.
Most materials swell when they warm, and shrink when they cool. But UConn physicist Jason Hancock has been investigating a substance that responds in reverse: it shrinks when it warms.
Although thermal expansion, and the cracking and warping that often result, are an everyday occurrence – in buildings, bridges, electronics, and almost anything else exposed to wide temperature swings – physicists have trouble explaining why solids behave that way.
Research by Hancock and his colleagues into scandium trifluoride, a material that has negative thermal expansion, recently published in Physical Review B, may lead to a better understanding of why materials change volume with temperature at all, with potential applications such as more durable electronics. For the complete article in UConn Today that explains their findings, see "Caution: Shrinks When Warm" .