Dear Friends of UConn Physics,
Due to the current health situation and concerns surrounding the Corona virus, we are canceling the Katzenstein Lecture and Banquet scheduled for Friday, March 13, 2020.
It was an agonizing decision to cancel, but our first priority is the health of all who would have been attending, our special guest Professor Strickland, and the UConn community. I extend an extra apology for those of you who have planned to travel a considerable distance and will need to change plans. For those who have signed up for the banquet, we are working to arrange refunds.
If all goes well, the current health crisis will be behind us soon and we will see if we can reschedule Professor Strickland for another, safer time.
Again, my apologies and best wishes,
Barry Wells
Barrett O. Wells
Professor and Head, Department of Physics
————————————————————————————-
The University of Connecticut, Department of Physics, is proud to announce that on March 13, 2020, Professor Donna Strickland of the Department of Physics and Astronomy at the University of Waterloo will be presenting the 2020 Distinguished Katzenstein Lecture.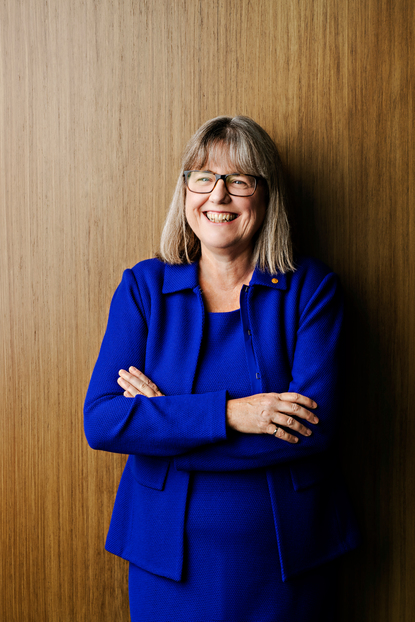 Prof. Strickland is one of the recipients of the 2018 Nobel Prize in Physics for developing chirped pulse amplification with Gérard Mourou, her PhD supervisor. They published this Nobel-winning research in 1985 when Strickland was a PhD student at the University of Rochester in New York State. Together they paved the way toward the most intense laser pulses ever created. The research has several applications today in industry and medicine — including the cutting of a patient's cornea in laser eye surgery, and the machining of small glass parts for use in cell phones.
Prof. Strickland earned a Bachelor in Engineering from McMaster University and a PhD in optics from the University of Rochester. She was a research associate at the National Research Council Canada, a physicist at Lawrence Livermore National Laboratory and a member of technical staff at Princeton University. In 1997, she joined the University of Waterloo, where her ultrafast laser group develops high-intensity laser systems for nonlinear optics investigations. She is a recipient of a Sloan Research Fellowship, the Ontario Premier's Research Excellence Award and a Cottrell Scholar Award. She received the Rochester Distinguished Scholar Award and the Eastman Medal from the University of Rochester.
Prof. Strickland served as the president of the Optical Society (OSA) in 2013 and is a fellow of OSA, the Royal Society of Canada, and SPIE (International Society for Optics and Photonics). She is an honorary fellow of the Canadian Academy of Engineering as well as the Institute of Physics. She received the Golden Plate Award from the Academy of Achievement, is in the International Women's Forum Hall of Fame, and holds numerous honorary doctorates.
Livestream of the talk: March 13 2020, 4:00 EST, https://www.youtube.com/channel/UCBv2Kp9wAsjHDfEHhIRc0pg
Reception: at 3pm in the Gant Light Court
---